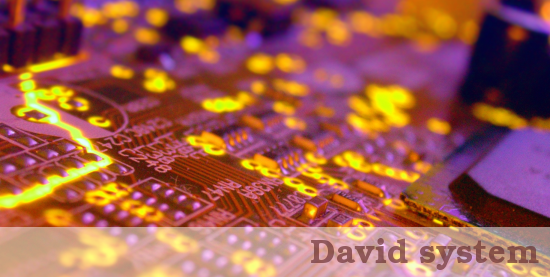 David system is a network management system (nms). It is a packet of real - time applications (modules) that allows computer network to be controlled, monitored and managed through the Internet. There is only one condition that managed devices must provide. On each device an SNMP agent (Simple Network Management Protocol) must work. SNMP is the most popular management protocol in the Internet so that requirement shouldn't be difficult to provide. Typical devices that can be monitored are:
IP routers,
ATM switches,
manageable ethernet switches,
UPSes with a SNMP adapter,
TV-SAT modems that allow IP devices to work in TV cable networks,
computers.
One of the most important feature of David system is its architecture. It's built of high level configureable and independent from one another modules. This regule is a main base of the project. In consequences, the same modules may build different management system. Main features of David system are:
general thinking in information flow controlling that come form high level independence of modules of the system,
high level configureability of the system modules that allows a special configuration of David system to reach end-user expectations so close as it's only possible,
the system scalability, so you can build up the system adding additional modules in very easy way; note that these modules needn't to be part of David system at all; adding another monitored devices to the system is a very easy procedure,
using shell scripts in information processing is opportunity for modeling information and influence on processing it,
all configuration files of David system, files with input/output data and log files are text files,
using SNMPv1, SNMPv2C and SNMPv3 to communicate with monitored devices.
The new release of our network monitoring system is available. David system 3.1.0 has been released as both RPM and DEB packages. Free Edition is available to download.
January 7, 2011
more...
The fixed version - David system 3.0.1 - of the latest release of our network monitoring system David system 3.0 is available. Free Edition is available to download.
September 17, 2010
We are pleased to announce the availability of the new version of our network monitoring system David system 3.0. It is also available as RPM packages. Free Edition is available to download.
September 5, 2010
David system 3.0 is on its way and will be released soon. It will be the first distribution available also as RPM packages.
May 14, 2010
The new release of our system - David system 2.8.0 - is available. Free Edition is available to download.
January 26, 2010
The new release of our network monitoring system - David system 2.7.0 - is available. Free Edition is available to download.
September 12, 2009
The new version of our network monitoring system - David system 2.6.0 - has been released. Free Edition is available to download.
June 12, 2009
The new version of our network monitoring system - David system 2.5.0 - is available. Free Edition is available to download.
February 24, 2009
The documentation of David system, our network monitoring system, has been updated.
February 23, 2009
The fixed version of our system - David system 2.4.1 - is already available. Free Edition is available to download.
December 31, 2008
The new version of our network monitoring system - David system 2.4.0 - is available. Free Edition is available to download. The documentation will be updated shortly.
November 25, 2008
The fixed version of our network monitoring system - David system 2.3.2 - is already available. Free Edition is available to download.
July 8, 2008
An important bug has been found in the last version of our network monitoring system - David system 2.3.0. Upgrade to the version 2.3.1 is recommended. Free Edition is available to download.
April 23, 2008
The new version of our network monitoring system - David system 2.3.0 - is available now. Free Edition is available to download.
March 29, 2008
The latest version of our network monitoring system has just been released. A few bugs have been found and fixed. The new version of the Free Edition - David system 2.2.2 is available to download.
January 30, 2008
Because of an important bug, an update of our network monitoring system has been made. The new version of the Free Edition - David system 2.2.1 is available to download.
December 30, 2007
Possibilities of monitoring of network interfaces have been extended in the Free Edition of David system. The number of network interfaces you can monitor has been increased from 150 to 1000!
December 29, 2007