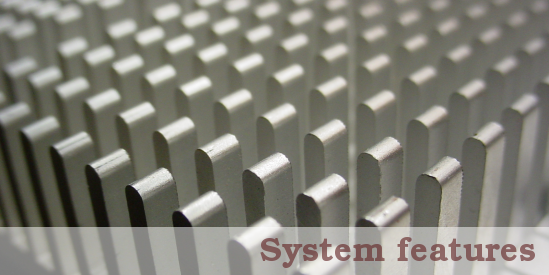 David system's strengths
The most important features of David system - the network management system (nms) created by our company - are described below.
Managament of free devices serviced SNMP protocol
David system can monitor free devices serviced SNMP protocol. So, a kind or a producer of the device isn't crucial. Devices, that don't service SNMP protocol but service IP layer, can be monitored through ICMP protocol (ping).
Function of auto-discovering resources and building of a topology of their connections.
The system begins a process of searching of the resources, that can be managed, beginning from a selected device or scanning a local network, if the device has not been given. Scanning proceeds through SNMP protocol. During discovering of new devices, new netwroks are finded, and they potentially can be scanned further. To do this, a system user decidion is required. The system automatically builds connections between discovered resources according to IP adresses.
Monitoring and collecting of resource states in real time.
David system monitors states of managed resources in the normal course such as: BGP peers, network interfaces, ping objects and managed items. System records changes of particular items, i.e. records the changes in the database and shows them a user of the system. The system additionally gathers work parameters of monitored devices, i.e. properties of managed objects such as: network interfaces, ping objects and managed items. Next, the data can be available through Web interface of David system and visible as graphs.
Automatic management of failures (event correlation)
David system can join repeated messages, that are mainly a result of received notifications SNMP-Trap. Counting of repeated messages and joining of events, that relate to the same incident, is a base of automatic managemnent of the events. The functionality is especially useful during long-lasting failures, when the same massages (SNMP-Trap) are sent by a given device every a few seconds.
David system not only can count and join messages related to the same incident according to an existed configuration, but also it can automatically service and supervise a received message about failures. When the system receives a massage about the failure, it will create a new case about which users of the system can be notified. Next, the case is monitored all the time while the failure is running, and if the system detects, that the failure is deleted, the case will be closed and the users will be notified about this fact. Detailed system reactions during servicing of different cases are described in the system configuration, and controled by many scripts, run for a particular kind of failures.
Access to David system through Web interface
David system includes two kinds of interfaces which are available to a user. The first one is web interface while the second one embraces X-Windows applications. The main X-Windows application is Network Management Map which enables to control many work parameters of David system. The second kind - the web interface - enables both a convenient way to access the data and controlling almost all facets of David system work. Thanks to the web interface a user has an access to current data gathered by the system, its reports and graphs, merely using a web browser from any place in the world.
Autoamatic generating of reports
David system allows a user to generate automatic, periodical reports using data gathered by the system during its work. The reports are generated every an hour and presented as daily, monthly or yearly registers. The reports are generated on the basis of three kinds of data. The first one are managed objects (BGP peers, network interfaces, ping objects), second one are cases pendingby the system, and the third one are SNMP-Trap notifications. A user can define filters on which basis reports about cases and notifications will be generated.
Extended system of data control collected by the system
David system has got an advanced system of access control to collected data and Web applications. The system allows to define users and user groups. Almost all system data and Web applications have such attributes as a user and a group to which belongs to access rights as: rights to read, write and execute. Managed objects (BGP peers, network interfaces, ping objects, managed items and objects) additionally have separated rights to properties of failures and properties of states.
Monitoring and generating of data about any objects existed in MIB on monitored devices
David system allows to monitor and generate information about any objects, that are available through SNMP protocol. The data are taken by choosing of selected data from tables or scalar data defined in MIB of a device. Choosing process is defined by a sepecification of groups of managed items, that are made by a user. On the basis of the specifications, data in MIB of devices are browsed and found information is a base of creating of managed items. Next, the items will be monitored and collected. In this way, a user can collectd data about any objects i.e.: physical parameters of network interfaces, properties of processors, voltages of power supply units, speed of fans etc.
Management of alerts for all monitored items
David system has got advanced alert system, that informs about failures of managed items. The mechanizm was accessible until now only for ping objects, but now it includs all monitored items as: BGP peers, network interfaces and managed items. When system detects an object state other then correct i.e.: when in case of ping object a percent of answers is less then 100%, a script will cyclically run for the object, that will alert a user of the system (i.e. by sending of a sound signal). A user of the system which expects, that a failure will last a long period of time, he can deactivate the alert using different methods. The most popular method is a deactivation of the alert until a correct state of the object is restored. The system automatically runs the alert oneself for the object after 15 minutes from a moment when the object state is correct. But in that time can be no failures, because the alert won't be activated.
Automatic, periodic updating of all information for each managed device
David system automatically updates every hour information about each device which was discovered by the system using SNMP protocol. In this way the system compares earlier information with a current state. Thereby it updates all management items, that were discovered on a given device. New, discovered items are added to management while the items, that weren't finded, are marked as deleted. Thanks to this process, the system has got current information about monitored devices. The system can update a given device at user's request in any time.
Monitoring of network services on application level
David system can monitor network services on application level. Both connection established time and its duration are monitored. It's also possible to verify correctness of work of a specified service by checking data received from it.
Archiving old data gathered by David system
David system has modules that let you archive old data gathered by other David system modules and stored in SQL tables. So the data are not just removed but can be archived and written to CDs or DVDs and the amount of data in the database do not increase ad infinitum.
Distributing SQL database among many various SQL database servers
David system is capable to devide its SQL database into many parts and distribute them among many various SQL database servers. Thus some SQL tables can be kept on a particular database server while others can be stored on another one. So David system must have one and only the one primary database and can have configured many secondary databases. The configuration which says where a set of tables should be kept can be altered during the normal system work and the migration process is transparent to the users as well as to the other parts of the system. This capability lets David system increase dramatically its performance.
The new release of our network monitoring system is available. David system 3.1.0 has been released as both RPM and DEB packages. Free Edition is available to download.
January 7, 2011
more...
The fixed version - David system 3.0.1 - of the latest release of our network monitoring system David system 3.0 is available. Free Edition is available to download.
September 17, 2010
We are pleased to announce the availability of the new version of our network monitoring system David system 3.0. It is also available as RPM packages. Free Edition is available to download.
September 5, 2010
David system 3.0 is on its way and will be released soon. It will be the first distribution available also as RPM packages.
May 14, 2010
The new release of our system - David system 2.8.0 - is available. Free Edition is available to download.
January 26, 2010
The new release of our network monitoring system - David system 2.7.0 - is available. Free Edition is available to download.
September 12, 2009
The new version of our network monitoring system - David system 2.6.0 - has been released. Free Edition is available to download.
June 12, 2009
The new version of our network monitoring system - David system 2.5.0 - is available. Free Edition is available to download.
February 24, 2009
The documentation of David system, our network monitoring system, has been updated.
February 23, 2009
The fixed version of our system - David system 2.4.1 - is already available. Free Edition is available to download.
December 31, 2008
The new version of our network monitoring system - David system 2.4.0 - is available. Free Edition is available to download. The documentation will be updated shortly.
November 25, 2008
The fixed version of our network monitoring system - David system 2.3.2 - is already available. Free Edition is available to download.
July 8, 2008
An important bug has been found in the last version of our network monitoring system - David system 2.3.0. Upgrade to the version 2.3.1 is recommended. Free Edition is available to download.
April 23, 2008
The new version of our network monitoring system - David system 2.3.0 - is available now. Free Edition is available to download.
March 29, 2008
The latest version of our network monitoring system has just been released. A few bugs have been found and fixed. The new version of the Free Edition - David system 2.2.2 is available to download.
January 30, 2008
Because of an important bug, an update of our network monitoring system has been made. The new version of the Free Edition - David system 2.2.1 is available to download.
December 30, 2007
Possibilities of monitoring of network interfaces have been extended in the Free Edition of David system. The number of network interfaces you can monitor has been increased from 150 to 1000!
December 29, 2007