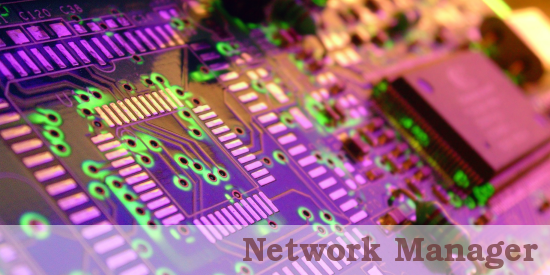 Functionality
Network Manager (full version) makes possible:
auto discovering of devices included in monitored networks and adding them to the database of managed devices;
visualization of monitored network topologies according to data gathered from managed devices through SNMP protocol;
monitored device states visualization (states of network interfaces, BGP sessions);
visualization of responses of monitored devices for ICMP ECHO packets sent by the management station (similary as ping command);
creating objects that represent service, node etc., which state depends on states of other objects and services stored in the database;
running directly from presented topology maps the most suitable control panels for selected devices and other graphic applications of David system;
designing graphic interfaces to control network devices that supply SNMP protocol; appearance of each interface and its functionality depend on an end-user invention (every control panel is written as a separate file);
real-time monitoring (considering speed of computer networks and polling interval) of devices work parameters and controlling its work, through generated application - control interface to a particular device;
visualization of network device work parameters through a generated application - interface to a particular device;
collecting current parameters of monitored devices work using SNMP protocol;
presenting collected data as graphs available in Web site;
sending collected data, current data about parameters of monitored devices work to Operation Manager; it makes possible to detect potential problems in early phase.
management of David system user accounts (creation and modification of user accounts);
notifing an operator about a received message and recording its identufier and reaction time.
One of Network Manager assignments is discovering objects into managed networks, building topological maps of monitored networks and visualization of discovered device states.
The product can gather information about networks from their nodes through SNMP protocol, and next can visualise the gathered data through Web application which is a user friendly interface to the database.
An important assignment of the product is gathered current work parameters of monitored network devices using SNMP protocol. The collected data can be presented as graphs through Web browser. The collected data also are forwarded to Operation Manager.
Network Manager on the basis of its configuration files can generate applications, that are graphic interfaces controling, through the network, devices on which SNMP agents work. Usually such interfaces show parameters of device work, which are important in a given situation. Many interfaces to a particular device may exist at the same time. The panels can be easy created and modified by end-users. Main edition technique used to creation of panels, like in a different kind of graphic editors, is using a mouse as a main design tool.
Network Manager can also manage user accounts. These users are quite independent of operating system users on which David system works. Each user has a name (identifier), a number (UID), a privilege level (ULEVEL - zero means the highest level), a password and a description of his/her account (GECOS).
The new release of our network monitoring system is available. David system 3.1.0 has been released as both RPM and DEB packages. Free Edition is available to download.
January 7, 2011
more...
The fixed version - David system 3.0.1 - of the latest release of our network monitoring system David system 3.0 is available. Free Edition is available to download.
September 17, 2010
We are pleased to announce the availability of the new version of our network monitoring system David system 3.0. It is also available as RPM packages. Free Edition is available to download.
September 5, 2010
David system 3.0 is on its way and will be released soon. It will be the first distribution available also as RPM packages.
May 14, 2010
The new release of our system - David system 2.8.0 - is available. Free Edition is available to download.
January 26, 2010
The new release of our network monitoring system - David system 2.7.0 - is available. Free Edition is available to download.
September 12, 2009
The new version of our network monitoring system - David system 2.6.0 - has been released. Free Edition is available to download.
June 12, 2009
The new version of our network monitoring system - David system 2.5.0 - is available. Free Edition is available to download.
February 24, 2009
The documentation of David system, our network monitoring system, has been updated.
February 23, 2009
The fixed version of our system - David system 2.4.1 - is already available. Free Edition is available to download.
December 31, 2008
The new version of our network monitoring system - David system 2.4.0 - is available. Free Edition is available to download. The documentation will be updated shortly.
November 25, 2008
The fixed version of our network monitoring system - David system 2.3.2 - is already available. Free Edition is available to download.
July 8, 2008
An important bug has been found in the last version of our network monitoring system - David system 2.3.0. Upgrade to the version 2.3.1 is recommended. Free Edition is available to download.
April 23, 2008
The new version of our network monitoring system - David system 2.3.0 - is available now. Free Edition is available to download.
March 29, 2008
The latest version of our network monitoring system has just been released. A few bugs have been found and fixed. The new version of the Free Edition - David system 2.2.2 is available to download.
January 30, 2008
Because of an important bug, an update of our network monitoring system has been made. The new version of the Free Edition - David system 2.2.1 is available to download.
December 30, 2007
Possibilities of monitoring of network interfaces have been extended in the Free Edition of David system. The number of network interfaces you can monitor has been increased from 150 to 1000!
December 29, 2007