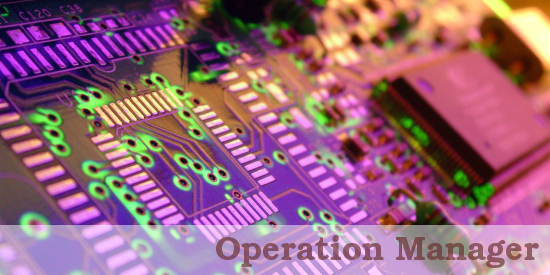 Functionality
Operation Manager (full version) makes possible:
correlation of information received from Notification Processor and Network Manager;
grouping received information into current cases with assigned identifiers that are unique in the system;
running actions (specified programs) for processed cases taking into consideration correlation of events included in their case, results of finished actions and time of its last occurrence;
processing events received from processes that aren't David system modules; it allows to respond to events not originated from SNMP agent;
getting information about current processed cases, failures and their service;
learning to recognize potentially dangerous events for monitored networks.
notifing an operator about received massages, pending cases, and recording user's identyfier and his/her reaction time.
Description
Operation Manager is an important part of the whole system. Other David system products influence on its work but it also influences on their work making some decisions. Using special algorithms, it tries to estimate severity of received information, and also finds connections between received messages. Information received by the product, can be different types ( e.g.: data received through SNMP protocol and SNMP-Trap messages).
One of main Operation Manager goal is running specified programs or scripts as a response to a current state of monitored devices and also notifing an operator, through e-mails, graphic windows and sound signals, about processed events and pending cases (i.e.: power failures, connectivity breaks between devices, device restarts etc.).
Results of Operation Manager work can be viewed through Web Applications which also allow to control the product work.
The new release of our network monitoring system is available. David system 3.1.0 has been released as both RPM and DEB packages. Free Edition is available to download.
January 7, 2011
more...
The fixed version - David system 3.0.1 - of the latest release of our network monitoring system David system 3.0 is available. Free Edition is available to download.
September 17, 2010
We are pleased to announce the availability of the new version of our network monitoring system David system 3.0. It is also available as RPM packages. Free Edition is available to download.
September 5, 2010
David system 3.0 is on its way and will be released soon. It will be the first distribution available also as RPM packages.
May 14, 2010
The new release of our system - David system 2.8.0 - is available. Free Edition is available to download.
January 26, 2010
The new release of our network monitoring system - David system 2.7.0 - is available. Free Edition is available to download.
September 12, 2009
The new version of our network monitoring system - David system 2.6.0 - has been released. Free Edition is available to download.
June 12, 2009
The new version of our network monitoring system - David system 2.5.0 - is available. Free Edition is available to download.
February 24, 2009
The documentation of David system, our network monitoring system, has been updated.
February 23, 2009
The fixed version of our system - David system 2.4.1 - is already available. Free Edition is available to download.
December 31, 2008
The new version of our network monitoring system - David system 2.4.0 - is available. Free Edition is available to download. The documentation will be updated shortly.
November 25, 2008
The fixed version of our network monitoring system - David system 2.3.2 - is already available. Free Edition is available to download.
July 8, 2008
An important bug has been found in the last version of our network monitoring system - David system 2.3.0. Upgrade to the version 2.3.1 is recommended. Free Edition is available to download.
April 23, 2008
The new version of our network monitoring system - David system 2.3.0 - is available now. Free Edition is available to download.
March 29, 2008
The latest version of our network monitoring system has just been released. A few bugs have been found and fixed. The new version of the Free Edition - David system 2.2.2 is available to download.
January 30, 2008
Because of an important bug, an update of our network monitoring system has been made. The new version of the Free Edition - David system 2.2.1 is available to download.
December 30, 2007
Possibilities of monitoring of network interfaces have been extended in the Free Edition of David system. The number of network interfaces you can monitor has been increased from 150 to 1000!
December 29, 2007